ANOTHER SMOOTH MOVE IN INNOVATION FIRSTS
We created a mower in a class by itself — a commercial-grade mower with Integrated Drive Systems featuring our patented EZ-Ride® System—at a breakthrough price! With independent front and rear suspension, the Maverick glides over uneven terrain — and through a price point other mower manufacturers thought impossible.
With a lower profile and wider stance, we've increased traction and even added our new DeckDial for precise cutting height. Packed with popular high-performance engines—It delivers all the power to bear on whatever you're mowing.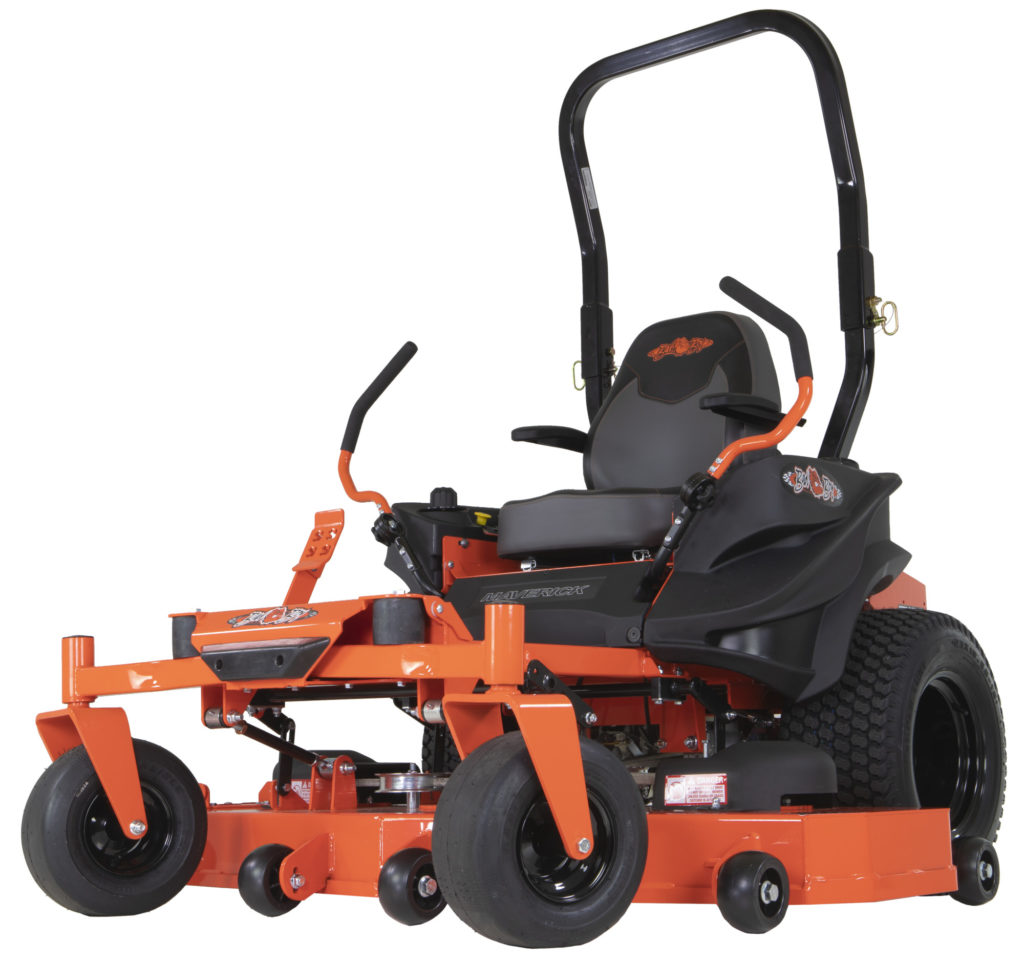 MOWER SPECIFICATIONS

Cutting Width

4800

 – 48″; 

5400

 – 54″; 

6000

 – 60″
Cutting Height
1.5″ – 4.5″ with Deck Height Control System
Blades

4800

 – 1/4″ x 2 1/2″ x 16 1/2″, High Lift, Heat Treated


5400

 – 1/4″ x 2 1/2″ x 18 3/4″, High Lift, Heat Treated


6000

 – 1/4″ x 2 1/2″ x 20 1/2″, High Lift, Heat Treated
Lift and Height Adjustment
Foot-Assist Manual lift with Dial-Style height adjustment. Optional electric lift
Blade Belt
Single V-Belt Spring Tension
Anti-Scalp Rollers

4800

 – 4 Total (2 Front, 2 Rear)


5400

 – 4 Total (2 Front, 2 Rear)


6000

 – 6 Total (4 Front, 2 Rear)
Deck Flotation
Floats On Four 1/4″ Deck Hangers
Deck Thickness
3/16″ Thick Solid Steel
DRIVE SYSTEM SPECIFICATIONS

Transmission
Hydro-Gear® ZT-3200 Dual Integrated Hydrostatic Transaxle
Pump Drive
Integrated Axial Piston Pump & Motor w/Gear Reduction
Wheel Drive
Integrated With Commercial Grade Gear Reduction
Hydrostatic System Oil
20W50 Motor Oil
Hydraulic Filter
25 Micron, Replaceable Spin-On Type, 1 Per Pump
Pumps
10cc Pump And Motor Integrated In One Unit
Hydraulic Coolers
7″ RPM Cooling Fan; One per unit
MOWER DIMENSIONS

Weight

4800

 – 862 lbs.; 

5400

 – 871 lbs.; 

6000

– 925 lbs.
Overall Height
49″
Overall Width
Chute Up/Chute Down

4800

 – 54″ / 61″; 

5400

 – 58″ / 67″; 

6000

 – 64″ / 76″
Overall Length
75″
Tire to Tire Width
46 1/2″
Tires – Front
13 x 6.5 – 6 Smooth Tread
Tires – Rear

4800

 – 23 x 8.5 – 12 Turf Tread; 

5400

 – 23 x 10.5 – 12 Turf Tread; 

6000

 – 23 x 10.5 – 12 Turf Tread
Steering
Dual Lever Steering, Independent Control
Turning Radius
Zero Turn – Zero Degrees, Turns Within Unit Length
Ground Speed (forward)
Up To 9 mph
Parking Brake
Internal Parking Brake