OUR NEW STAND-ON IS A STAND-OUT PERFORMER
The totally redesigned Revolt Stand-On Commercial Zero Turn Mower has been improved in every way and features improved performance, operator ease-of-use and durability. Operator visibility is improved with new, shorter frame and curved iBeam front fork support.
The rear tires are larger and the fuel tank is now located in the center of the machine. This allows the rider to stand directly between both rear tires, resulting in a lower center of gravity and making the Revolt Stand-On Zero Turn Mower one of the most maneuverable — and balanced — Stand-On Mower's in the industry. So even though we've managed to make it smaller, we've packed in bigger performance all the way around.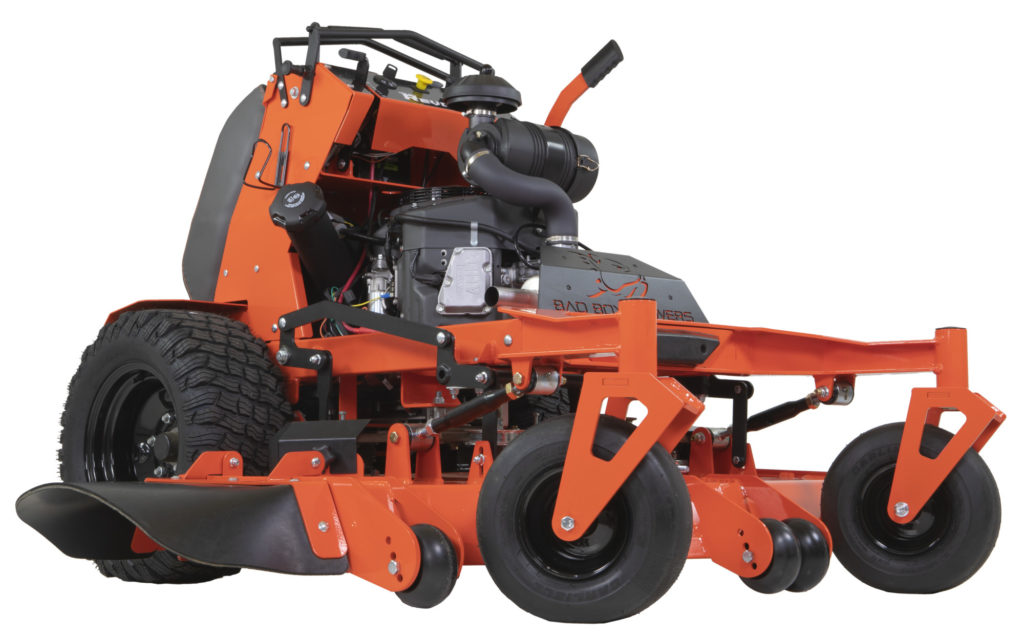 MOWER SPECIFICATIONS

Cutting Width

4800

 – 48″; 

5400

 – 54″
Cutting Height
2″ – 5″ In 1/4″ Increments
Blades

4800

 – 1/4″ x 2 1/2″ x 16 1/2″, High Lift, Heat Treated


5400

 – 1/4″ x 2 1/2″ x 18 3/4″, High Lift, Heat Treated
Lift and Height Adjustment
Manual Quick-Adjust Setting with Hand Lever
Blade Belt
Single V-Belt Spring Tension
Anti-Scalp Rollers

5400

 – 6 Total (4 Double-Bracketed Front Wheels, 2 Rear Wheels)
Deck Flotation
Floats On Four 1/4″ Deck Hangers
Deck Thickness
3/16″ Thick Solid Steel With Additonal 1/4″ Steel Leading Edge And 3/8″ Side Trim
DRIVE SYSTEM SPECIFICATIONS

Transmission
Industrial Grade Dual Integrated Hydrostatic Transaxle
Pump Drive
Integrated Axial Piston Pump & Motor w/Planetary Gear Reduction
Wheel Drive
Hydro-Gear® Integrated 3400 Series Transaxle
Hydrostatic System Oil
20W50 Motor Oil
Hydraulic Filter
Internal, Replaceable, 1 Per Axle
Pumps
–
Hydraulic Coolers
8″ 3,600rpm Cooling Fan; One Per Unit.; 8″ 3,600RPM Cooling Fan; One Per Unit
MOWER DIMENSIONS

Weight

4800

 – 905 lbs.;
Overall Height
48″
Overall Width
Chute Up/Chute Down

4800

 – 50 1/2″/62 1/2″; 

5400

 – 56 1/2″ / 68 1/2″
Overall Length
63″
Tire to Tire Width

4800

 – 43 1/2″; 

5400

 – 43 1/2″
Tires – Front
13 x 6.5 – 6 Smooth Tread
Tires – Rear
23 x 9 – 12 Reaper Tires
Steering
Dual Lever Steering, Independent Control
Turning Radius
Zero Turn – Zero Degrees, Turns Within Unit Length
Ground Speed (forward)
Up To 10 mph
Parking Brake
Internal Parking Brake