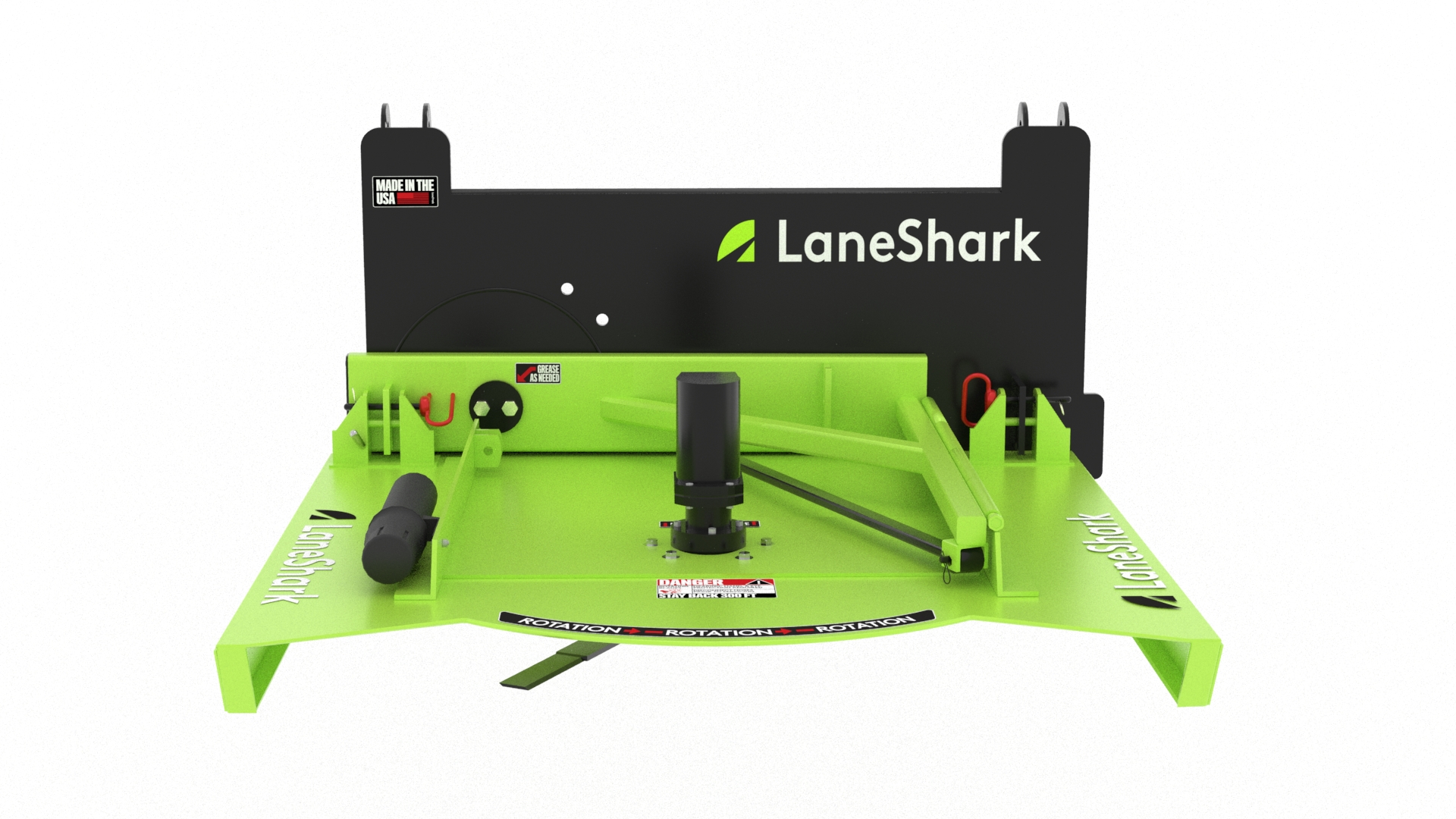 LANESHARK LS-2 DETAILS:
$4700.00
The Lane Shark LS-2 is a light duty rotary cutter designed to clear overgrown roadways, for light land management, and property maintenance.
Easily cuts up to 2-3" diameter limbs, brush, saplings, and underbrush. The Lane Shark has 11 positions that allow it to cut vertically, offset, directly in front (level), or 25°, 35°, & 45° in the vertical and offset positions
The Lane Shark LS-2 attaches to the front of any FEL tractor with a SSQA or JD Hook & Pin-Style attachment system. There are adapters available to fit most other applications sold separately.
The Lane Shark LS-2 weighs just under 450 lbs.
In order for the Lane Shark brush cutter to operate to full potential, the tractor must have a hydraulic flow rate of at least 8.5 GPM, optimal flow is 10 GPM. Hydraulics are linear, 10 GPM equals 100% of the optimal flow, 8.5 GPM equals 85% of the optimal flow and so on.
To run the Lane Shark, you must have rear remotes or third function. ONLY Pressure comes from the remote, and return must be to the sump. (CANNOT RETURN THROUGH AUXILIARY HYDRAULICS)
When purchasing the Lane Shark brush cutter, you will receive a unit equipped with #10 ORB (O-ring Boss) inlets. When using ORB, a minimum inside diameter of 1/2" is required.
NOT COMPATIBLE WITH DIVERTER VALVES
NOT COMPATIBLE WITH SKID STEERS
**Some tractors may require a high capacity motor. If your tractor meets the specifications for an LS-2, but has a hydraulic flow rate between 15-20gpm, you will need a high capacity LS-2
*Price does not include tax, shipping, or installation.