THE NEW TOP DOG IS A BREED APART FROM THE ORDINARY
There's simply no better commercial-grade zero-turn mower for the demanding lawncare professional or large acre homeowner. This beast offers the best of everything we've advanced in the industry, and all the while, is firmly rooted in the build quality, ease of use and toughness that every Bad Boy Mower before it was built on. There's just never been more power to comfortably dominate your terrain.
The Renegade Commercial Zero Turn Mower features our All New 3-Link Rear Trailing Arm Suspension — the first and only of its kind in the industry. Matched with front suspension arms, to provide a smoother ride, more consistent tire contact and increased hillside stability. Paired with our All New Adjustable Footrest and Premium Suspension Seat the Renegade Zero Turn Mower provides all day comfort with unsurpassed cutting power.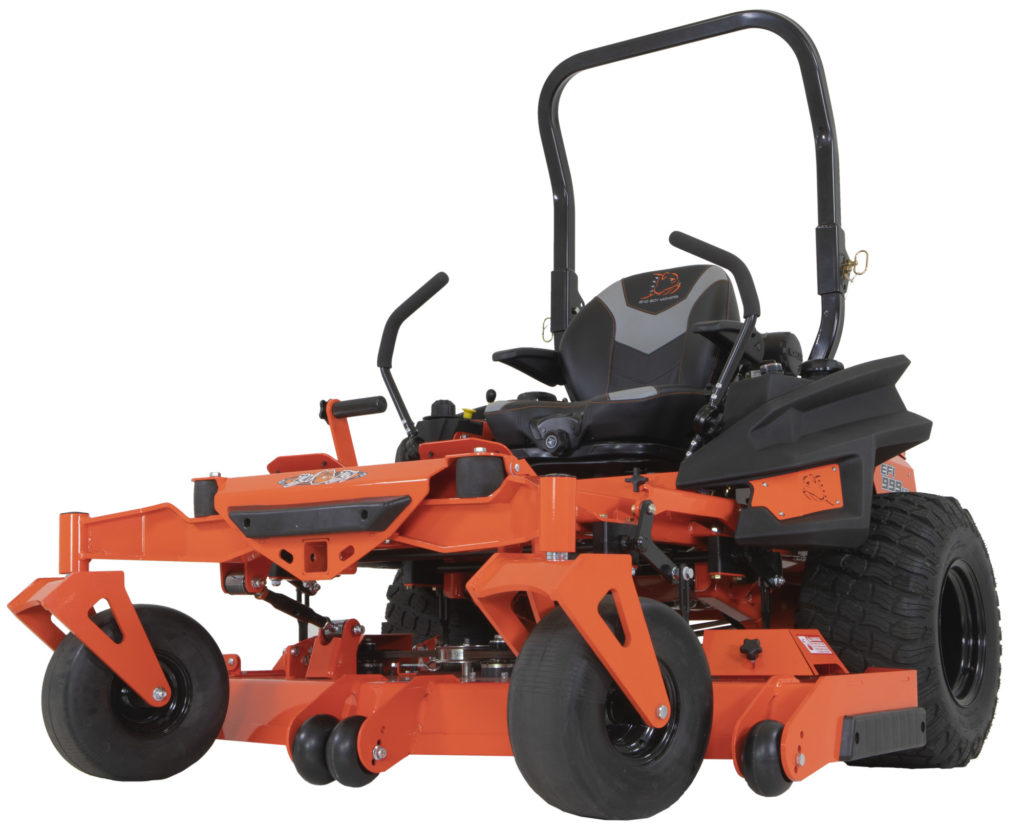 MOWER SPECIFICATIONS

Cutting Width

6100

 – 61″; 

7200

 – 72″
Cutting Height
2″ – 6″ In 1/3″ Increments
Blades

6100

 – 1/4″ x 2 1/2″ x 21″, High Lift, Heat Treated


7200

 – 1/4″ x 2 1/2″ x 24″, High Lift, Heat Treated
Lift and Height Adjustment
Foot-Assist Manual lift with Dial-Style height adjustment. Optional electric lift
Blade Belt
Single V-Belt Spring Tension
Anti-Scalp Rollers
6 Total (4 Double-Bracketed Front Wheels, 2 Rear Wheels)
Deck Flotation
Floats on (4) 1/4″ Deck Hangers
Deck Thickness
1/4″ Thick Solid Steel With Additional 1/4″ Steel Leading Edge And 3/8″ Side Trim
DRIVE SYSTEM SPECIFICATIONS

Transmission
Dual Hydrostatic
Pump Drive
–
Wheel Drive
18 cu. In. High Torque Parker Motors®
Hydrostatic System Oil
20W50 Motor Oil
Hydraulic Filter
25 Micron, Replaceable Spin-On Type, 1 Per Pump
Pumps
16cc Hydro-Gear® Pumps With Dual V-Belts From Engine Crankshaft
Hydraulic Coolers
Finned Extruded Aluminum Heat Exchangers
MOWER DIMENSIONS

Weight

6100

 – 1,535 lbs.; 

7200

 – 1,595 lbs.
Overall Height
51″
Overall Width
Chute Up/Chute Down

6100

 – 62″/75 1/2″; 

7200

 – 74″/88″
Overall Length
91″
Tire to Tire Width

6100

 – 59″; 

7200

 – 59″
Tires – Front
13 x 6.0 – 6 Smooth Tread
Tires – Rear
26 x 12 – 12 Reaper Tires
Steering
Dual Lever Steering, Independent Control
Turning Radius
Zero Turn – Zero Degrees, Turns Within Unit Length
Ground Speed (forward)
Up To 13 mph
Parking Brake
Internal Parking Brake