DON'T LET THE PRICE FOOL YOU, THESE ARE BUILT-TO-LAST
Most mowers at this price are made from flimsy stamped steel and bolted together. So if you're looking for the efficiencies of a zero-turn mower at a price that does not compromise on quality construction and quality of cut — turn to the MZ Magnum.
With larger and stronger frames—sporting an even stronger 7-gauge all-steel, fabricated deck — the MZ Magnum is far more substantial in build quality than other mowers in this price range. You'll immediately appreciate the rock-solid, all-steel welded construction, powerful engine and 'too much fun to call it work' ride.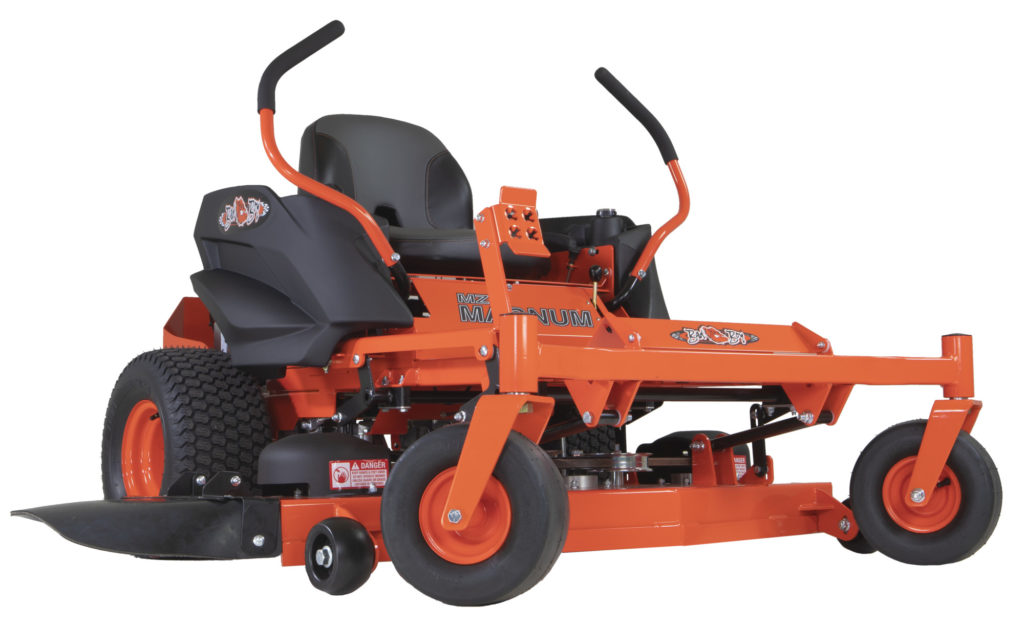 MOWER SPECIFICATIONS

Cutting Width

4800

 – 48″; 

5400

 – 54″
Cutting Height
1.5″ – 4.5″ with Deck Height Control System
Blades

4800

 – 7/32″ x 2 1/2″ x 16 1/2″, High Lift, Heat Treated


5400

 – 7/32″ x 2 1/2″ x 18 1/2″, High Lift, Heat Treated
Lift and Height Adjustment
Foot-Assist Manual lift with Dial-Style height adjustment. Optional electric lift
Blade Belt
Single V-Belt Spring Tension
Anti-Scalp Rollers
2 Front
Deck Flotation
Floats On Four 1/4″ Deck Hangers
Deck Thickness
3/16″ Thick Solid Steel
DRIVE SYSTEM SPECIFICATIONS

Transmission
Dual Integrated Hydrostatic Transaxle
Pump Drive
Integrated Axial Piston Pump & Motoro w/Gear Reduction
Wheel Drive
Integrated with Gear Reduction
Hydrostatic System Oil
20W50 Motor Oil
Hydraulic Filter
–
Pumps
EZT Integrated Unit
Hydraulic Coolers
7″ Cooling Fan per Unit
MOWER DIMENSIONS

Weight

4800

 – 661 lbs.; 

5400

 – 686 lbs.
Overall Height
42″
Overall Width
Chute Up/Chute Down

4800

 – 54″ / 61″; 

5400

 – 58″ / 67″
Overall Length
76″
Tire to Tire Width
46″
Tires – Front
11 x 6.0 – 5 Smooth Tread
Tires – Rear
18 x 9.5 – 8 Turf Tread
Steering
Dual Lever Steering, Independent Control
Turning Radius
Zero Turn – Zero Degrees, Turns Within Unit Length
Ground Speed (forward)
Up To 6 mph
Parking Brake
External Cogg Brake