In 2016, HydroPoint expanded our product line by acquiring Baseline Systems, a Boise-based developer of irrigation solutions, and by moving beyond irrigation to offer visibility into building water use – domestic, cooling tower and fire supply water – through our WaterCompass product. Baseline is widely recognized for their superior moisture sensors and two-wire technology, nicely rounding out our product line. All together, WaterCompass, WeatherTRAK and Baseline give HydroPoint's 30,000+ customers the insight and control needed to improve efficiency and lower costs for one site or an entire portfolio, both indoors and out.
WeatherTRAK: the next generation in smart irrigation.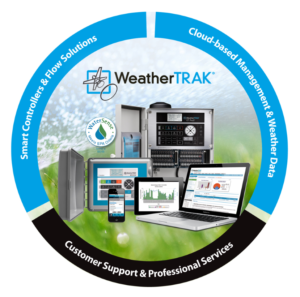 WeatherTRAK, our award-winning line of smart irrigation controllers, flow products and cloud-based central management, eliminates water waste and delivers operational savings.
Proven in 25+ independent studies, including perfect scores on the EPA's Water Sense certification, WeatherTRAK achieves 95% of maximum conservation potential compared to 60 – 70% for competitive solutions.
More content coming soon! But for now check our their website here!