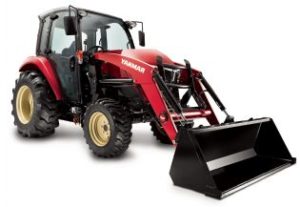 58.9 ENGINE HORSEPOWER* DIESEL TRACTOR
Stop worrying about rain, snow, heat and cold. Tackle big, tough jobs – regardless of the weather – in the Yanmar YT359C with a cab, heating and air conditioning. Comfortable and easy to operate, the YT359C uses advanced electronic controls and an integrated hydraulic mechanical transmission (i-HMT). The innovative transmission creates the standard of operation for more versatile performance.
---
High-Performance Drivetrain
The exclusive i-HMT design from Yanmar efficiently converts horsepower from a 4-cylinder diesel engine into the energy you need to run a wide range of attachments for mowing, plowing, digging, lifting and hauling. The unique transmission lets you choose the right speed for every task and application.
Low fuel consumption due to transmission efficiency
Fingertip, clutch-less control of forward/reverse
Air filtration keeps the dust out
58.9 horsepower
Simple But Powerful
Our YT3 Series tractors are designed to make work easier for people of all skill levels. The YT359C includes an auto throttle that enables you to control engine and travel speed with an accelerator/drive pedal. This makes operating the tractor like driving a car or truck with an automatic transmission car. A/B Mode lets you preset your maximum travel speed. An anti-stall feature keeps your engine running when you dig or lift a heavy load. There's also cruise control to keep you moving efficiently when mowing or traveling for long stretches.
Yanmar designs and builds the major components – engine, front axle, transmission and final drive – to work together. Then Yanmar smoothly integrates these features and optional attachments so you can get more work done quickly:
Yanmar-designed front-end loader, with class-leading lift capacity of 2,500 pounds and an industry-standard, skid-steer-style quick-attach system for buckets, forks and other attachments
Large LCD display integrates with controls
Engine surpasses U.S. Tier 4 clean air requirements
One-touch-on/off, electro-hydraulic, independent rear power takeoff (PTO)