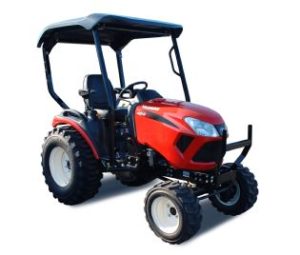 Yanmar designed the SA424DHX tractor with high ground clearance and incredible stability for challenging terrain. Then we added a four-post roll over protective structure (ROPS). That makes it possible for you to order an optional soft-side cab or a hard-side cab with a heater. With protection from the cold or rain, you'll be more comfortable and productive.
---
Unrivaled versatility
Yanmar outfits the SA424DHX with a larger, more aggressive tire package, which increases ground clearance and provides more stability over the roughest parts of your property. The design also means you'll operate with complete comfort and confidence. Here's a quick look at SA424DHX features to help you get the most work done:
Hydrostatic transmission with dual pedals for simplified operation
Optional hard-side or soft-side cabs can be field installed
Lift 1,200 pounds – power typically found in larger tractors
24 horsepower
Built Together To Work Together
The SA424DHX can do serious work with a front-end loader, a hydraulic backhoe and three-point hitch attachments for mowing, tilling, planting, digging, plowing and much more.
Yanmar designs and builds the major components – engine, front axle, transmission and final drive – to work together. We also smoothly integrate these features and optional attachments so you can get more work done quickly:
Yanmar-designed front-end loader, with class-leading lift capacity of 1,200 pounds and a quick-attach system for buckets, forks and other attachments
60-inch, mid-mount, drive-over mower
Dual hydraulic pumps
Smooth hydraulic power steering
One-touch on/off, electro-hydraulic, independent rear power takeoff (PTO)