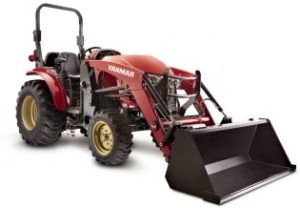 34.2 ENGINE HORSEPOWER* DIESEL TRACTOR
The advanced styling of the Yanmar YT2 Series tractors is only the beginning. The YT235 is built to help you be more efficient and productive. Every day. From easy-to-use controls to the advanced engineering under the hood, the innovation of the YT235 goes much deeper than stunning aesthetics.
---
Technological Superiority
The YT235 is equipped with a hydrostatic transmission that gives you an unlimited choice of tractor speeds. Quickly find the ideal speed for the easiest to the most-demanding jobs. To make work simple, the YT235 provides three speed ranges controlled by a left-hand shift lever.
Dual pedals for comfortable and precise transmission operation
Power steering for less operator fatigue
Power takeoff (PTO) and three-point hitch for attachments
34.2 horsepower
Built Together To Work Together
Whether a simple job or a complex dig, the YT235 has you covered. As with every Yanmar tractor, the true power lies in the fuel-efficient Yanmar diesel engine. That means the YT235 can do serious work with a front-end loader, a hydraulic backhoe and three-point hitch attachments for mowing, tilling, planting, digging, plowing and much more.
Yanmar designs and builds the major components – engine, front axle, transmission and final drive – to work together. We also smoothly integrate these features and optional attachments so you can get more work done quickly:
Yanmar-designed front-end loader, with lift capacity of 1,300 pounds and industry-standard, skid-steer-style, quick-attach for buckets, forks and other attachments
Hydraulic backhoe with 7.5-foot digging depth
60-inch, mid-mount, drive-over mower
Dual hydraulic pumps
Smooth hydraulic power steering
One-touch-on/off, electro-hydraulic, independent rear PTO