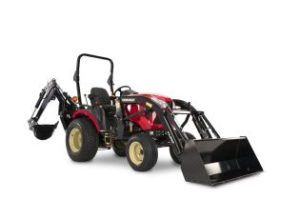 24 ENGINE HORSEPOWER* DIESEL TRACTOR
You believe in doing a job the right way. That's why we built this tractor to work as long and as hard as you need it to. The Yanmar SA324 is the ideal compact tractor when you need versatility. Equipped with a famously reliable Yanmar three-cylinder diesel engine, the SA324 delivers a unique combination of horsepower and fuel efficiency.
---
Unrivaled versatility
Lift more. Dig deeper. Cut faster. You'll be able to use a wide range of attachments to get the most out of what your property has to offer. SA Series tractors provide the flexibility to handle any job around your property. Here's a quick look at the SA324 features:
Hydrostatic transmission with dual pedals for simplified operation
Power steering for less operator fatigue
Power takeoff (PTO) and three-point hitch for attachments
24 horsepower
Built Together To Work Together
SA Series tractors pack the power you'd expect from much larger tractors. That means the SA324 can do serious work with a front-end loader, a hydraulic backhoe and three-point hitch attachments for mowing, tilling, planting, digging, plowing and so much more.
Yanmar designs and builds the major components – engine, front axle, transmission and final drive – to work together. We also smoothly integrate these features and optional attachments so you can get more work done quickly:
Yanmar-designed front-end loader, with class-leading lift capacity of 1,200 pounds and quick-attach for buckets, forks and other attachments
60-inch, mid-mount, drive-over mower
Dual hydraulic pumps • Smooth hydraulic power steering
One touch-on/off, electro-hydraulic, independent rear PTO